Location, Advantages, and Housing in the Ridgevale Subdivision: A Hidden Gem near Bedford
The Ridgevale subdivision, nestled on the outskirts of Bedford and on the road to Dartmouth, is a hidden gem of a neighborhood. With its proximity to Dartmouth and the Burnside Industrial Park, the area offers convenience and accessibility to its residents. The Ridgevale subdivision, built primarily in the early 1990s, boasts executive single-family homes, large lots, and a thriving community with plenty of advantages.
1. Introduction
Welcome to the Ridgevale subdivision, a charming neighborhood located on the Sackville end of Bedford. This article will provide insights into the location, advantages, housing styles, notable streets, and nearby schools within the Ridgevale subdivision. Whether you are a potential homeowner, a real estate enthusiast, or simply curious about this thriving community, we have all the information you need.
2. Location: A Convenient Address
The Ridgevale subdivision enjoys an enviable location on the road to Dartmouth, making it an ideal choice for those seeking proximity to both Dartmouth and the Burnside Industrial Park. Its strategic position allows residents to take advantage of the amenities, services, and employment opportunities available in these bustling areas. Additionally, the subdivision's close proximity to major roadways ensures easy commuting to other parts of Halifax and beyond.
3. Age of Houses: A Blend of Charm and Modernity
Most of the houses in the Ridgevale subdivision were constructed in the early 1990s, showcasing a blend of charm and modernity. These well-built homes have stood the test of time and have been meticulously maintained by their owners. While the majority of houses were built in the early 1990s, there are also some newer properties constructed in the late 1990s, offering a range of options for prospective homeowners.
4. Advantages: Resale, Design, and Community
One of the notable advantages of the Ridgevale subdivision is its strong resale value. The homes in this area are similar in size and design, creating a cohesive and visually appealing neighborhood. The executive single-family homes, with their spacious layouts and impressive curb appeal, make for a highly desirable living environment. The large lots provide ample space for outdoor activities and landscaping, allowing residents to create their own private oasis.
The sense of community within the Ridgevale subdivision is another advantage worth mentioning. With many families residing in the area, there is a vibrant atmosphere filled with children playing, neighbors socializing, and a strong sense of belonging. Furthermore, the presence of two playgrounds within the subdivision adds to the family-friendly ambiance, offering children a safe and enjoyable place to play and make lasting memories.
5. Style of Housing Available: Executive Living at Its Finest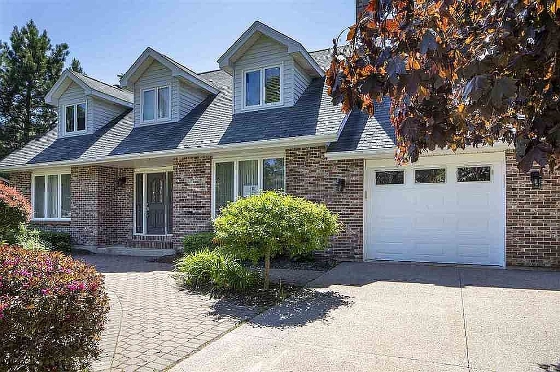 The Ridgevale subdivision predominantly offers executive two-story homes and larger residences. These homes exude elegance and sophistication, boasting a variety of architectural styles and thoughtful design elements. Whether you prefer a traditional aesthetic or a more contemporary look, you will find a range of housing options that cater to diverse tastes and preferences.
6. Notable Streets: A Sense of Community
The Ridgevale subdivision is home to several notable streets that contribute to its unique character. Some of these streets include Ridgevale, Parkvale, Brentwood, Ambercrest, Adlington, Lowe Court, and Canfield. Each street offers its own charm and showcases the diverse architectural styles present within the subdivision. Residents take pride in their homes and the sense of community fostered by these well-maintained streets.
7. Schools: Quality Education for Growing Families
For families residing in the Ridgevale subdivision, access to quality education is of paramount importance. Thankfully, the area is well-served by reputable schools. Sunnyside Elementary School, Rocky Lake Junior High, and C.P. Allen High School cater to students from the primary level up to high school. These educational institutions prioritize academic excellence, a nurturing environment, and a well-rounded education, ensuring that children receive the best possible start in life.
8. Conclusion
In conclusion, the Ridgevale subdivision offers a prime location, quality housing options, a sense of community, and access to excellent schools. Its proximity to Dartmouth and the Burnside Industrial Park makes it an ideal choice for those seeking convenience and accessibility. Whether you are captivated by the elegant homes, the family-friendly atmosphere, or the welcoming streets, the Ridgevale subdivision has something for everyone.