Exploring the Shore Drive Area: A Hidden Gem in Bedford
If you're looking for a picturesque neighborhood close to downtown Bedford, the Shore Drive area is an ideal choice. Nestled between Dartmouth and Halifax, this charming community offers a tranquil setting with easy access to both cities.
1. Introduction: Discovering Shore Drive
The Shore Drive area, situated near downtown Bedford, is a hidden gem in the metropolitan region. Known for its stunning waterfront views and peaceful atmosphere, this community is highly regarded among residents and visitors alike. Whether you're looking for a serene environment, excellent schools, or convenient access to neighboring cities, Shore Drive has it all.
2. Location: A Convenient Commute
Located closer to Dartmouth than Halifax, the Shore Drive area offers a prime location for commuting to either city. Its proximity to downtown Bedford ensures easy access to essential amenities, while being surrounded by nature's beauty. Residents can enjoy the tranquility of the area while still having the option to reach Halifax or Dartmouth within a reasonable time.
3. Age of Houses: From Vintage to Modern
One of the distinctive features of the Shore Drive area is its diverse range of houses. From almost new properties to century-old homes, this neighborhood showcases a blend of architectural styles that reflect its rich history. Whether you appreciate the character of older homes or prefer the modern conveniences of new constructions, Shore Drive has something to offer for everyone.
4. Advantages: The Charm of Shore Drive
Living in the Shore Drive area comes with numerous advantages that make it a desirable place to call home. The breathtaking waterfront views are a standout feature, providing residents with a constant reminder of the natural beauty that surrounds them. Moreover, this area boasts excellent amenities within walking distance, including elementary schools, the Lion's Park with its heated outdoor pools, basketball courts, and a picnic area. The nearby Bedford Yacht Club is an added bonus for those who enjoy the maritime lifestyle.
5. Style of Housing Available: Waterfront Luxury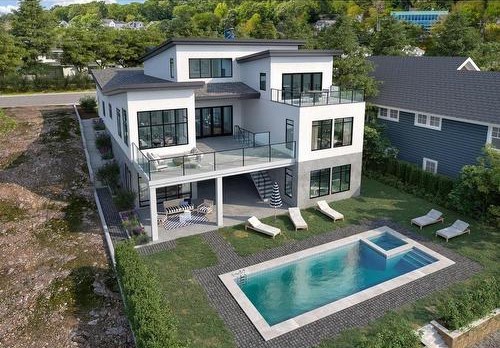 If you're in search of exceptional homes, Shore Drive delivers in style. Many properties in this area are situated along the scenic Bedford Basin, offering residents unparalleled water views. The generous lot sizes and predominantly single-family detached housing make this neighborhood an oasis of space and tranquility. With a mix of older and newer homes, the Shore Drive area caters to a variety of tastes and preferences. It's worth noting that prices in this prestigious neighborhood can exceed $2 million, reflecting the exclusivity and luxury it provides.
6. Streets in the Area: A Blend of History and Beauty
The streets of the Shore Drive area are as enchanting as the homes that line them. Shore Drive itself sets the tone for the neighborhood, with its proximity to the water and scenic vistas. Other notable streets include Andrew Cobb, Perth, John Gorham, Wardour, Fort Sackville, Golf Links, and Camden. Each street offers its own unique charm, contributing to the overall allure of the neighborhood.
7. Schools: Education in Proximity
Families with children will find convenience in the proximity of schools in the Shore Drive area. Sunnyside Elementary provides quality education within a short walking distance, ensuring a seamless experience for young learners. Rocky Lake Junior High School and CP Allen High School offer education for older students, ensuring a smooth transition through different grade levels. The availability of excellent schools in the vicinity is a significant advantage for families considering a move to the Shore Drive area.
8. Conclusion
In conclusion, the Shore Drive area in Bedford stands as a testament to natural beauty, convenient location, and luxurious living. Its proximity to both Dartmouth and Halifax, coupled with its stunning waterfront views, make it a highly sought-after community in the metropolitan region. Whether you're captivated by historic homes or modern residences, Shore Drive offers a diverse range of housing options. With excellent amenities, schools, and the charm of the Bedford Basin, this neighborhood provides an exceptional quality of life for its residents