When my husband and I were looking to move to Nova Scotia from Toronto back in 2019, we kept coming back to Bedford. This suburban community is part of the Halifax Regional Municipality and is located on the northwestern part of the Bedford Basin. It is a family-oriented town and very safe to live in. Bedford has some of the best schools in Nova Scotia.
Honesty, we thought Bedford was an area within the city of Halifax. It is THAT close to downtown. What we later realized was that it is 20 minutes to downtown Halifax and 20 minutes in the other direction to downtown Dartmouth. Best of both worlds. We love the theatre, the Halifax waterfront and the hipster feel of downtown Dartmouth. While we have lived here my husband worked in Halifax and I worked in Dartmouth. Easy commute to both.

Bedford is one of the most diverse places in Nova Scotia. Coming from Toronto, that was important to us. We love to have friends and neighbours who share their cultures and experiences with us. The community is welcoming, and we enjoy the various ethnic restaurants around town.
Being from a large city, we have no clue about wells and septic tanks. Bedford has municipal water and sewage. Not glamorous but realistically, it was something we could handle. We need never worry about well contamination or water drying up.
We never tire of the clean air. Standing on our balcony in any season inhaling crisp and fresh air is something our city ladened lungs really appreciated. Of course, there were parks and greenery in downtown Toronto, but nothing like what is out here. We are loving being outdoors more. And the views are incredible. Deer actually venture up on to the lawns of many of the houses here. You might see a bald eagle in the trees by the highway! Speaking of highways, people let you merge here! But don't chance driving through a pothole. Trust us on that one.
The Bedford Basin was an attraction on its own for us. Living directly on the Atlantic is nice, but with global warming we preferred the calmer waterfront. Great views and less hurricane fallout. Watching sailboats from the nearby yacht club is an added bonus.
Bedford has close proximity (roughly 20 minutes) to Halifax Stanfield International Airport. With direct flights to London, Frankfurt, and other European cities, as well as various Canadian and American cities, travel and connecting with loved ones are always an option. We are only a two-hour flight from Toronto so meeting up with our old friends is a cinch.

There are numerous trails and parks around Bedford. DeWolfe Park has a children's area, workout equipment, and a mile of boardwalk. It's a great place to take a stroll or walk the dogs. Many activities from charity runs to outdoor movies take place in this great park, and it is where the annual Light Up Bedford Santa Claus parade starts. Parking is FREE! It is THE BEST place for Canada Day fireworks as you not only see Bedford's, but you can see the Halifax display as well. The Bedford Lions Park is located within walking distance of DeWolfe park and houses two heated swimming pools and a basketball court. These are just two of the many parks here.
Shopping is super convenient with almost everything you need in Bedford. Nearby shopping means the area is self-sustained. You do not HAVE to drive into Halifax or Dartmouth for things if you do not want to. Both Sunnyside Mall and Bedford Place mall are indoor malls, and there are many plazas like Mill Cove. In fact, the latter is home to our doctor, pharmacy, grocery store, and hairdresser. (Our vet is across the street). You need never travel far to get what you need and if I want big box stores, Bedford Commons, Bayers Lake, and Dartmouth Crossing are minutes away.
We have numerous good restaurants. Il Mercato (Italian), Lemon Tree (Turkish), Rudy and Olive's (Fish and Chips), Chicken Burger (oldest Drive in Diner in Canada, circa 1940!), a quick bite at Izzy's Bagels and other wonderful establishments make going out to dine a breeze. New restaurants are opening all the time. Whatever you are looking for foodwise, you likely can find it in Bedford.
Bedford is growing so it will just keep getting better. During COVID, Bedford was one of the fastest growing areas of Canada. With growth comes more opportunity. We love being in an area that is always growing, and always changing. But there is also a connection to the past with the Bedford Archives which are housed in the Scott Manor Museum (Bedford's oldest house). The museum is open during the summer for tours and various programming. Also, a shout out to our branch of the Halifax Public Library. In addition to books, magazines, and DVDs there are some wonderful programs for families, seniors, and anyone in between. Volunteers will connect one-on-one with English language learners so you can improve your language skills for free.
Everything is close by. Don't let the map fool you if you are used to Toronto, Montreal or Vancouver maps. The scale is different out here. You can be across the province in a couple of hours. Travelling to areas like Lunenburg, Peggy's Cove (which is also part of the HRM incidentally), Chester, and so on is only about 30 - 60 minutes away.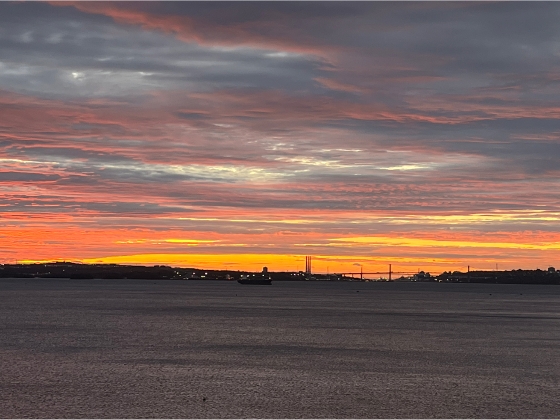 One of the wonderful things about Nova Scotia is that there is a part of the province for every lifestyle. As someone moving from the downtown core of a large city, I have no regrets choosing to live in Bedford. Sandra Pike found the best home for us, and I recommend that you talk to her about Bedford.